Amerejuve Pairs With Houston Social Source, Rose Matchmaking and Warwick Photography to Bring the Ultimate Single Ladies Night Out Event.
While many couples make plans to celebrate Valentine's Day this year, Houston's single women are invited to an extraordinary night of wine, beauty and fun, complete with discounted onsite BOTOX® injections, makeovers, and an expert panel with discussions on sex, plastic surgery and how to find the right man.
Amerejuve Medspa and Cosmetic Surgery announced today the pairing with Houston Social Source, Rose Matchmaking and Warwick Boudoir Photography to bring an exclusive event for the single women of Houston. "All the Single Ladies" will be hosted at The Corkscrew on Tuesday, February 19th from 7 p.m. to 10 p.m. and will feature an amazing blend of wine, beauty services and entertainment in a night made just for her.
"All the Single Ladies" will include makeovers by the incredibly talented makeup artist Marc Harvey and premier hair stylist Tina Greer, Ask the Expert panel with a question and answer session hosted by a sex therapist, plastic surgeons and Houston's leading matchmaker, Jamie Rose of Rose Matchmaking. This beauty extravaganza-cum-ultimate ladies night out also offers photography by Warwick Boudoir Photography and deeply discounted medspa services from Amerejuve. Special medspa pricing includes 40% off all body contouring packages, 50% off VelaShape cellulite and circumferential reduction treatments, $100 off each syringe of dermal fillers, including Restylane® and Juvederm®, as well as $9/unit BOTOX® injections. Amerejuve nurses will be onsite where attendees can receive wrinkle removal BOTOX® injections while enjoying the event.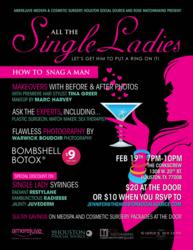 Amerejuve, Houston Social Source, Rose Matchmaking & Warwick Boudoir Photography present "All the Single Ladies" Event for Houston's single women
Guests who would like to attend "All the Single Ladies" can RSVP to jennifer (at) thehoustonsocialsource (dot) com, which will discount their ticket to $10 per entrant. Alternatively, tickets can be purchased at the door for $20. The event will be held at The Corkscrew, located at 1308 W. 20th Street, Houston, TX 77008. For questions or further details, please contact jennifer (at) thehoustonsocialsource (dot) com or kristi.rivera (at) amerejuve (dot) com.
Amerejuve Medspa and Cosmetic Surgery is the number one provider of esthetic care in Houston.
Amerejuve innovative approach to wellness combines beauty, science and service to give its clients options that best fit with each individual's goal, whether that means preventative or restorative (correction, reduction or enhancement) esthetic services. Amerejuve's full line of beauty services, which include laser hair removal, body contouring and cellulite reduction, lip enhancement, facial contouring, wrinkle removal and erasing sun spots and acne scars, is unparalleled in the medspa industry, and all services are available at affordable prices. Altering one's appearance through cosmetic facial plastic surgery in the Houston area is not just about improving one's looks; it's about improving lives. Amerejuve features talented facial cosmetic surgeons whose experience and skill in facial plastic surgery allow them to craft stunning results that leave their clients feeling beautiful, confident and empowered. They know to look good is to feel good. Amerejuve is also the only medspa clinic in Houston that offers customer service available to clients 24 hours a day, seven days a week via phone or through their website.
With so many locations throughout the Greater Houston Area, Amerejuve has become Houston's number one provider of laser hair removal, cosmetic and non-surgical skin treatments. MedSpa services include BOTOX®, RADIESSE®, Restylane®, JUVÉDERM®, ReFirme™, LATISSE®, VelaShape™, SmartLipo™, CoolSculpting by Zeltiq®, cellulite and circumferential reduction, laser-based skin rejuvenation, skin tightening, microdermabrasion and chemical peels, all available at Amerejuve's eight state-of-the-art facilities with locations now in Katy, Sugar Land, Clear Lake and League City, Northwest Houston, the Galleria area, Memorial, The Woodlands and Kingwood. To schedule a free consultation at any of the eight Amerejuve locations, please call (713) 960-6262 or visit them on the web at https://www.amerejuve.com. Amerejuve can also be found on Facebook (https://www.facebook.com/AmerejuveMedSpa), Twitter (https://www.twitter.com/AmerejuveMedSpa) and Pinterest (https://www.pinterest.com/AmerejuveMedSpa), where they offer weekly prizes and giveaways.